Compacta horizontal stretch wrappers are designed for bundling long, narrow products like wood molding, aluminum and plastic extrusion as well as tubing, textiles and carpet.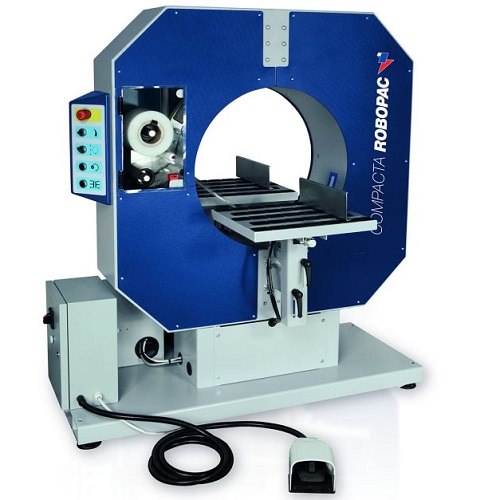 Compacta
Compacta semi-automatic horizontal rotating ring stretch wrappers are designed for low- to mid volume production.
Safe, simple operation includes automatic film clamping and cutting. Compactas feature constant film tensioning to improve package integrity and reduce film breaks.
Max Rotation Speed - Compacta 4: 150 RPM, Compacta 6: 120 RPM, Compacta 9: 60-75 RPM, Compacta 12: 58 RPM
Minimum Workable Dimensions - Compacta 4: 2" x 2", Compacta 6: 2.75" x 2.75", Compacta 9: 3.5" x 3.5", Compacta 12: 6" x 6"
Pneumatic Cold Cutting and Clamping Unit
Pre-stretch: Friction Roll
Control Panel: Single Purpose Knobs and Buttons
Warranty: 1 Year
Ships from Lawrenceville, GA