The SQ-800Y with brushless DC Motor is a side-seal model which boasts all of the advanced features of the SQ-800 such as self-loading, refeed and loop ejection. It boasts wide adaptability to fully-automated packaging lines.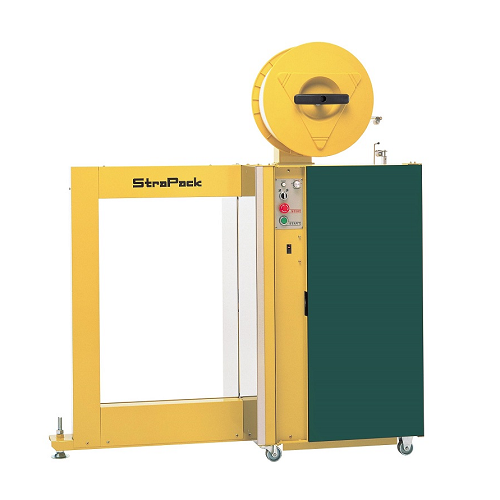 SQ-800Y
The machine fits any existing or proposed conveyor system, adapts to any conveyor height and requires no special equipment. Several options are available to make it easy to integrate the SQ-800Y into a conveyor system. Larger arch sizes offer a wide range of applications, particularly for large and heavy packages.
Standard strapping rate is 50 straps/min, even when tension is applied. The machine is ready to operate in less than 25 seconds, contributing to increased packaging line efficiencies.
Standard Specifications (Arch size 23" wide x 33" high)
Width is 59-1/8 in.
Height is 67-3/4 in.
Depth is 24 in.
Weight is 397 lbs.
Minimum Package Size is W 1-1/4 X H 3-1/8 in.
Joint is Heat Seal Polypropylene
Strap Widths are 1/4,3/8,1/2 in.
Strap Tension is 176 lbf
Ships from Union City, CA
Many arch sizes are stocked in CA