The SQ-800IR3 boasts all of the advanced features of the SQ-800 such as self-loading, refeed and loop ejection, in an attractive and compact body. Space-efficient design with internal reel unit utilizing a standard size strap coil. This compact body is ideal for printing and mailing applications. The integrated foot arm switch under the body provides hands-free operation.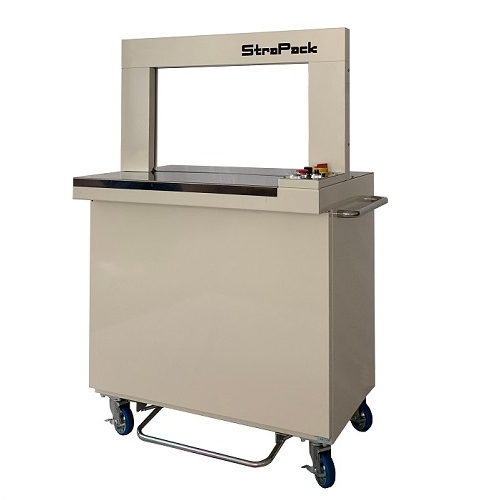 SQ-800IR3
Standard strapping rate is 60 straps/min, even when a tension is applied. The machine is ready to operate in less than 25 seconds, contributing to increased packaging line efficiencies.
The upgraded sealing head utilizing DC motors means less moving parts and less dusting from plastic strapping. It also reduces the maintenance cost. Strapack's signature self-lubricating design also reduces wear and tear, allows for easier maintenance, and increases operational life of the machine.
Arch configuration accommodates U.S. Mail trays with 27 in. opening.
Standard Specifications (Arch size 27 in. wide x 16 in. high)
Width is 41-3/8 in. (with handles)
Height is 56-7/8 in.
Depth is 24 in.
Weight is 355 lbs.
Table Height is 36-7/8 in.
Minimum Package Size is W 3-1/8 X H 1-1/8 in.
Joint is Heat Seal Polypropylene
Strap Widths are 1/4,3/8,1/2 in.
Strap Tension is 176 lbf
Ships from Union City, CA