The D-53PLT2 is designed to economically and quickly strap most kinds of pallets using standard or heavier polypropylene strapping. The D-53PLT2 can cut the time it takes to strap pallets by up to 2/3 when compared to hand tools. Its simple operation entails pushing the track into the pallet void, pressing a button to feed the strap, and inserting the tip of the strap in the machine and within 2 seconds your strap operation is completed. The D-53PLT2's unique design enables to strap pallets as low as 14 in.. Arch track is retractable with a hand-crank. The height of the track is also adjustable to two positions depending on the type of the pallet or size of its void. For edge protection insertion, the manual mode can be selected to control strap completion. Battery operated version is available.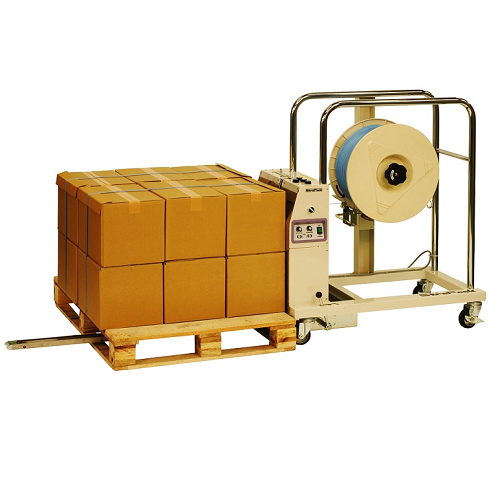 D-53PLT2
Manual Tension or Automatic Tension are available by means of a simple selector switch.
The strap tension can be controlled manually via the Operation Bar, allowing edge protection to be secured to the pallet prior to strap completion.
Operator friendly! Only the use of the Operation Bar (Manual Tension) and the Start Switch are needed for complete strap operation.
Width is 86-3/8 in. including bayonet
Height is 47-1/2 in.
Depth is 21-3/8 in.
Weight is 198 lbs.
Joint is Heat Seal Polypropylene
Strap Widths are 1/2, 5/8 in.
Strap Tension is 20-156lbs
Ships from Union City, CA