The StraPack RQ-8A is a fully automatic strapping machine suitable for integration into production line systems. It offers the benefits of the RQ-8x and incorporates flat conveyor belts built into the machine table top to index packs in and out of the strapping arch. Photo-electric cells detect the pack position. A varying number of straps can be applied according to the pack length. The machine can also be manually operated provided that the table selector switch is placed in the 'OFF' position to turn of the belts.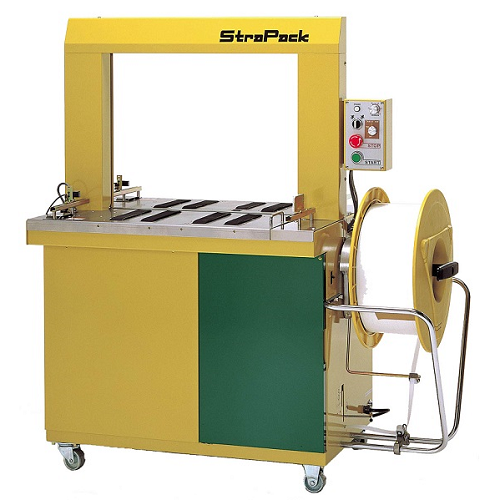 RQ-8A
Fast cycle speed makes this model ideal for high volume, operatorless packaging lines.
Self-threading system allows the operator to avoid opening any panels or doors. No threading of strap through the machine is necessary. Loading strap is as simple as the touch of a lever.
An integrated, self-diagnostic monitoring system displays vital machine functions for reliable operation and easy maintenance. An empty strap loop is automatically ejected when a cycle is initiated without a package on the table. Any forwarding failure is re-tried up to three times. If refeeding is not successful, the machine automatically stops and activates a trouble light. The machine also automatically stops when the strap coil becomes empty.
Standard Specifications (Arch size 25 in. wide x 19 in. high, FB3)
Width is 49-1/4 in.
Height is 55-1/4 in.
Depth is 24 in.
Weight is 507 lbs.
Table Height is 31-1/4 to 35-3/8 in.
Minimum Package Size is 6-3/4 in. wide x 4 in. high x 9-1/8 in. long
Joint is Heat Seal Polypropylene
Strap Widths are 1/4, 3/8, 1/2, 5/8 in.
Strap Tension is 176 lbf
Ships from Union City, CA