The reliability, speed, ease of operation and low maintenance costs of the RQ-8 strapping machines are now available on a bundling machine designed specifically for the corrugated industry. The RQ-8CR/FR features a high cycle speed, easy strap loading, auto re-feed and loop ejection, lubrication free operation and safe dual tensioning. It incorporates a 1650mm x 500mm (65" x 20") arch, top compression, a driven roller conveyor table and runs 5mm or 6mm (1/4") strap to facilitate the requirements of corrugated container production. For production settings with high output requirements, the RQ-CR/FR is now available with a dual strap dispenser and automatic strap coil transfer system. This newly developed system is designed to prevent any costly production stoppages due to strap coil changes.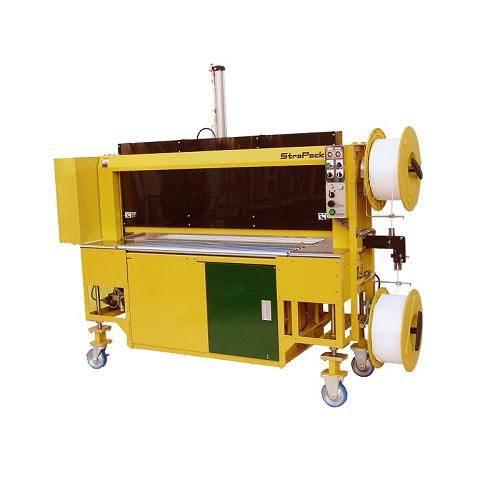 RQ-8CR/FR
The production proven RQ-8 design is now available in a model specifically tailored for the demands of high speed bundling in corrugated box plants.
The automatic strap threading system makes loading anew coil of strap quick and easy. All operator controls are readily accessiblee on the operators' side of the machine for simple production urn set ups. The RQ-8CR/FR also features and automatic strap refeed system and automatic strap loop ejection to prevent any unnecessary production interruptions without operator intervention.
Minimal moving or wear parts, dual tensioning system, pulsating heater system, and a lubrication-free , electric sealing head design delivers years of wear-free, low maintenance operation in high volume production environments.
Standard Specifications (Arch size 65" wide x 20" high)
Width is 87 in.
Height is 72-99 in.
Depth is 24 in.
Weight is 926 lbs.
Conveyor Height is 28-54 in.
Conveyor Speed is up to 131 ft / min.
Joint is Heat Seal Polypropylene
Strap Widths are 1/4 in.
Strap Tension is 176 lbs.
Ships from Union City, CA