The Ecoplat is a turntable stretch wrapper that wraps up to 25 loads per hour. Comes standard with 110" wrap height. This pallet wrapper is R-connect ready, which allows you to monitor and improve your packaging performance through remote assistance.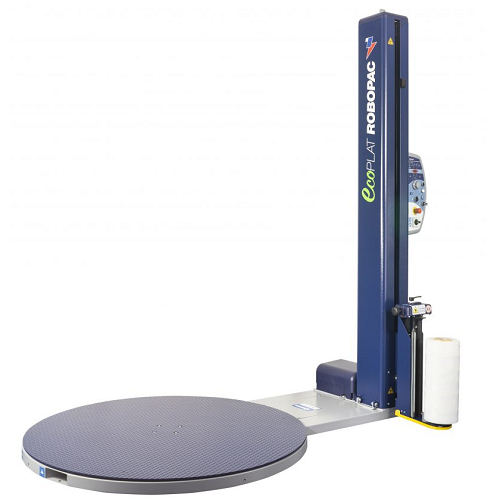 Ecoplat
The FRD film carriage with Mechanical Brake is manually adjusted and has an indicator to show the tension setting. There is also a tension on/off lever to allow film to be released for attaching to the pallet without altering the film tension. This system allows tension to be constant and not effected by the size of the film reel.
R-Connect, available for this machine is our latest innovation was developed to provide usage and performance data via the cloud, enabling you to meet Industry 4.0 demands by putting performance monitoring & optimization at your fingertips.
Structural Integrity – 65" turntable with 28 support bearings
Maximum weight: 4400 lbs.
Standard wrap height: 110"
Unique record-a-wrap feature to record wrap pattern. Start, stop, jog up, jog down are all recorded. Up to 20 movements.
Film tension braking system spreads force out evenly over a larger surface area resulting in a much smoother film delivery. No "jerking" movements that break the film.
Control Panel: FRD
Ships from Lawrenceville, GA